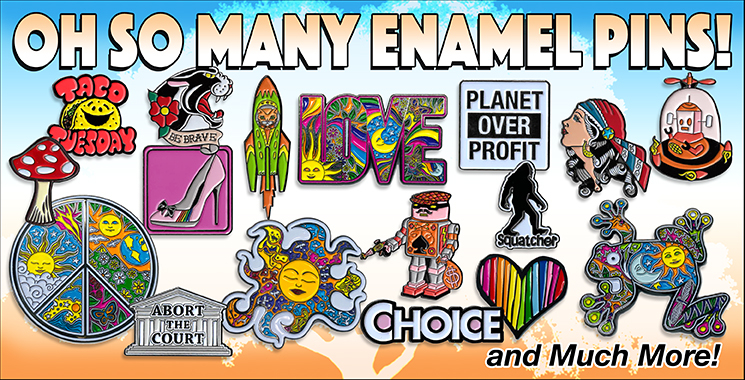 Dear Yujeaners:

During this uncertain, difficult time, we want to assure you of our commitment to you and your business.
We count you among our Yujean family of friends and colleagues, and we are concerned about you.
Please reach out with any questions, anything we can do to help.

Our team is here to assist as always, within the safeguards we take for health and safety.

You, your families and teams are in our thoughts.

We wish you

Peace,
The Gang at Yujean Products

Stickers and patches and pins.....oh my!!!

Well, we may be called Yujean Stickers but we are so much more than that! Over the past few years, we've brought on great new products like our amazing, top quality enamel pins, and our customers are LOVING them! As always, it's about the art, about the quality, about the trend!! We work from our friendly offices in Eugene, Oregon, bring our dogs to work, love what we do.....and we hope it shows.
Yujean Stickers is your ultimate source for enamel pins, stickers, keychains and novelties--stuff like #Pink Resist designs, in enamel pins, button boxes, and stickers, crazy cool Aliens, Day of the Dead Sugar Skull stickers and other swag, Gay/ LGBTQ Pride designs, and our fab new artist Cali, with her nifty otters and dog breed sugar skulls. Every dog lover needs these awesome dogs! (A hint: if you aren't already a dog lover, these awesome designs will make one out of you!) Don't forget CATS!! (Cali, and we, are equal opportunity pet people!)
Denim jackets are hot, enamel pins too, and so are our incredible iron on patches!! Peace, hippie swag, Aliens and more!! Dig in. Check us out.
The list would have to be a mile long to link to everything we have, so trust us--we have something for YOU! You can see our very latest intros here! AND don't miss our new CLEARANCE!! section! We are cleaning out some old favorites to make room for new product. Incredible, first quality product at big markdowns!
Have a store? Need a wholesale account? Set up your new web account under Wholesale Login above. We have rack programs and display options available. Talk to us about how we can help your bottom line--and give your customers the great stuff they want. OVER THE 35 YEARS WE HAVE BEEN IN BUSINESS, WE HAVE WORKED WITH RETAIL SHOPS AND SMALL CHAINS, FESTIVAL AND FLEA MARKET SELLERS, ONLINE SELLERS AROUND THE WORLD, AND IT IS THE CORE OF OUR BUSINESS. REACH OUT. WE'D LOVE TO HELP!!
Let us know how we're doing! Email us at info@yujean.com, and follow us on Facebook.
We'd love to hear from you!

 Keep dreaming, Yujeaners!
Peace,

The Gang At Yujean Products